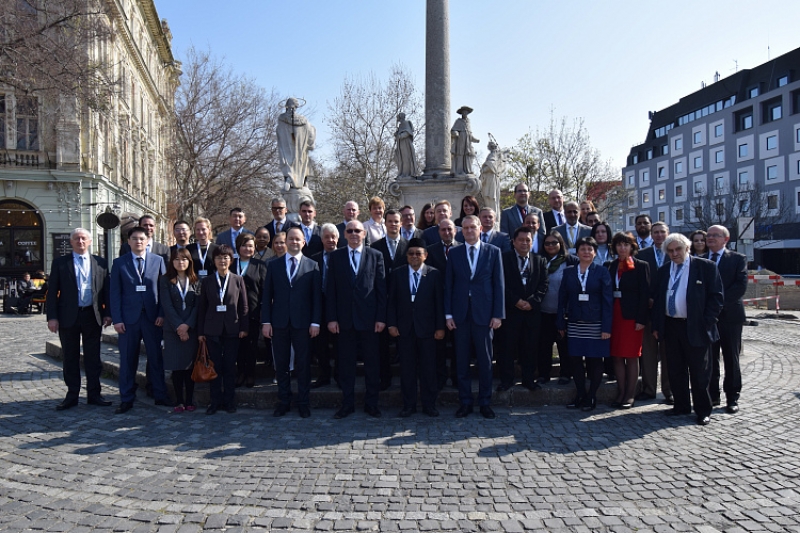 12th Meeting of INTOSAI Working Group on Key National Indicators Held in Bratislava
The delegation from the Accounts Chamber of the Russian Federation chaired by auditor Dmitry Zaytsev took part in the 12th meeting of the INTOSAI* Working Group on Key National Indicators (WGKNI), which was held in Bratislava, the capital of the Slovak Republic, on April 2-3.
The working group was established in 2007 following to the resolution of the 19th INCOSAI, which took place in Mexico. It meets annually and is chaired by the Accounts Chamber of Russia.
The WGKNI regular meeting was attended by delegates from supreme audit institutions (SAIs) of 18 countries. In total, it comprises SAIs of 27 countries, including three new member SAIs, such as SAIs of Azerbaijan, Belarus and Kuwait, which were also represented at the meeting. In addition, WGKNI has included the African Organisation of English-Speaking Supreme Audit Institutions (AFROSAI-E) as another observer.
At the meeting, auditor of the Accounts Chamber Dmitry Zaytsev presented a progress report of WGKNI activities over the last 12-month period, including some proposals with respect to focus areas of its future work.
Representatives from SAIs of Austria, Azerbaijan, Belarus, Bulgaria, Indonesia, Italy, Kazakhstan, Kuwait and Slovakia, as well as from the German Society for International Cooperation (Deutsche Gesellschaft für Internationale Zusammenarbeit, GIZ) and AFROSAI-E also gave presentations to share their national practices for using key national indicators and auditing how successfully the UN Sustainable Development Goals (SDG) are being achieved.
The attendees also discussed the instruments on the WGKNI current agenda, such as the Guidance on Audit of the Use and Development of Key National Indicators and the Guidance on Audit of Reliability of Macroeconomic Forecasts.
A separate topic of the meeting was the preparation for the 23d INCOSAI to be held in Moscow in 2019.
INTOSAI unites supreme financial control (audit) institutions in the UN member states. It was founded in 1953, while the Accounts Chamber of the Russian Federation joined INTOSAI as its member in 1995. The Accounts Chamber is engaged in all INTOSAI major working bodies and chairs the INTOSAI Working Group on Key National Indicators (WGKNI) and the INTOSAI Working Group on Public Procurement Audit (WGPPA).
---