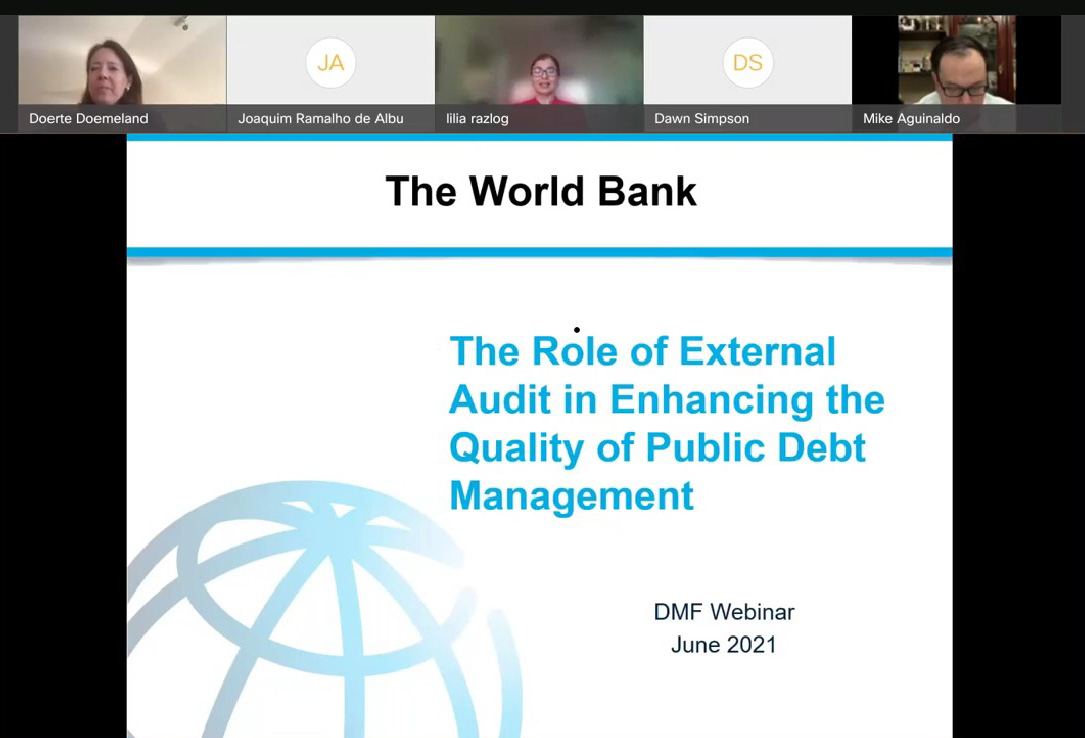 World Bank and INTOSAI Working Group on Public Debt Audit Joint Webinars
On June 18, 2021, as part of the Public Debt Management Audit Week, a series of joint webinars of the World Bank and the INTOSAI Working Group on Public Debt Audit (WGPD) took place. Virtual meetings were moderated by Doerte Doemeland, Practice Manager in Global Macro and Debt Analytics of World Bank.
"According to the results of the World Bank's Debt Management Performance Assessment (DeMPA) evaluations, less than 30 percent of developing countries meet minimum requirements on the frequency and comprehensiveness of external debt management audits, the publication of audit reports and implementation of recommendations. Webinars aim to foster an open exchange of views on the challenges posed by the public debt management performance audits, as well as provide insight into the steps to be taken to improve results,"
– said Doerte Domeland.
During the webinar "The Role of External Audit in Improving Public Debt Management", participants discussed the importance and types of external public debt management audits, key challenges in this area and possible solutions.
Lilia Razlog, Senior Debt Specialist in the Macroeconomics and Fiscal Management Global Practice of the World Bank, introduced the participants to the World Bank's Debt Management Facility technical assistance program and presented the methodology for assessing public debt management performance through a comprehensive set of performance indicators spanning the full range of government debt management functions.
"Addressing public debt transparency issues and applying accurate debt analysis tools and well-designed policies to prevent debt distress situations remains critical,"
– she said.
Michael G. Aguinaldo, Chairman of the SAI Philippines, Chair of the INTOSAI Working Group on Public Debt Audit, recalled that the group's task is to support SAIs in developing their competencies in public debt auditing through the exchange of experience and knowledge within the professional community. He noticed current projects and achievements of the working group, including the approval of GUID 5250 " Guidance on the Audit of Public Debt". The SAIs independence, legal mandate and reporting procedures, high-quality assessment methodology, open auditor-auditee relationships, audit capacity and resources are some of the challenges that SAIs face when conducting public debt audits. The group's recommendations to overcome challenges and to improve the efficiency of public debt management operations include: closer collaboration with external auditors and experts, following the SAI recommendations, heightened enforcement of transparency and accountability, IT systems and infrastructure suitably improved.
During the webinar "Audit of Debt Management Operations", the session participants considered practical issues of public debt management audit, including strategy development, risk assessment, monitoring and final reporting. Representatives of SAIs Argentina and Finland highlighted the problems that SAIs face when performing an audit of public debt management, taking into account the specifics of the legal framework, organizational structure and established practice.
---