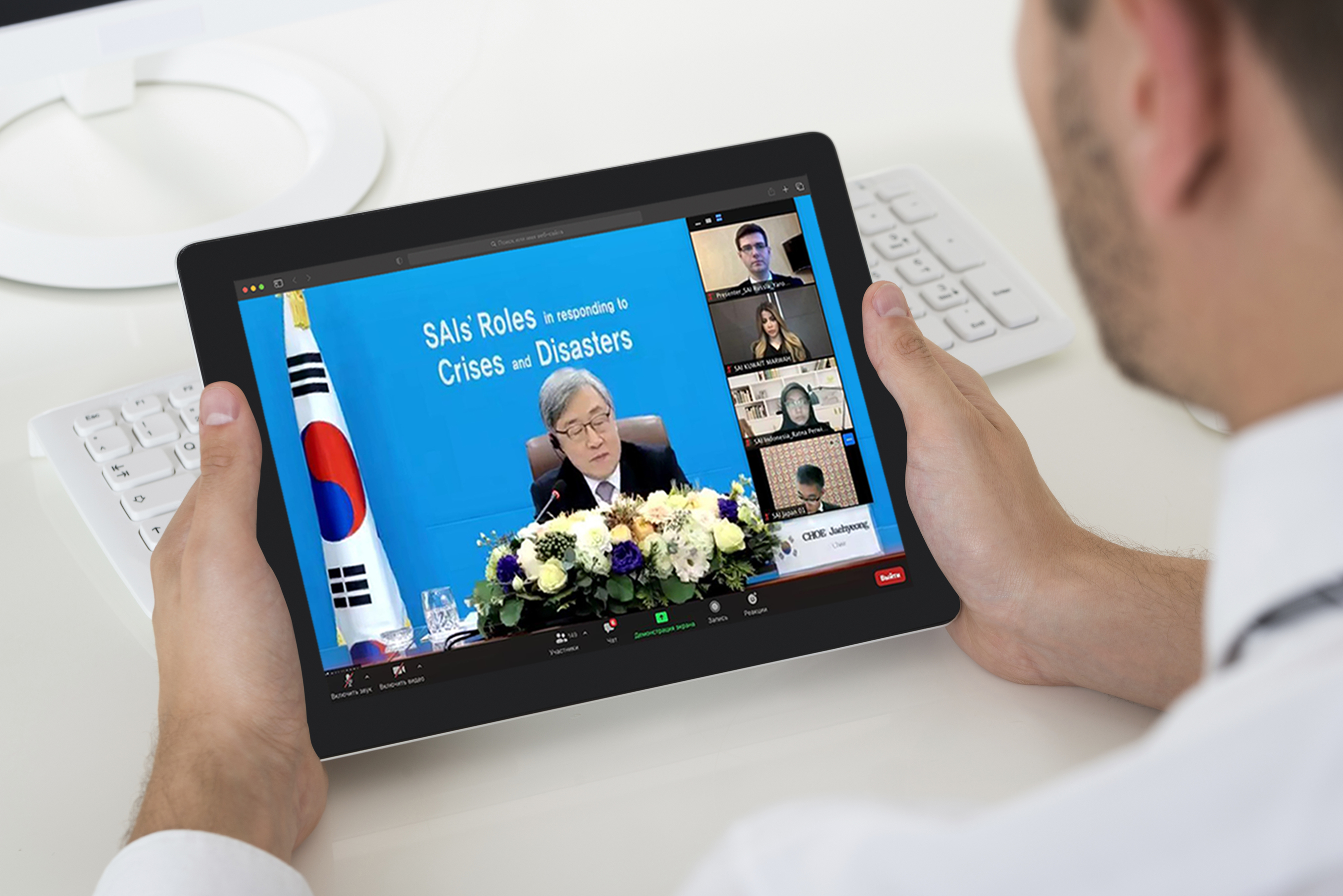 Webinars on the topic "The role of SAIs in responding to crises and emergencies"
On January 26 – 28, 2021 ASOSAI held a series of webinars on the topic "The role of SAIs in responding to crises and emergencies" aimed to assist members in optimizing their strategic anti-crisis initiatives.
The co-organizers were the ASOSAI Secretariat and the ASOSAI Special Committee on the Feasibility Study for the establishment of the ASOSAI Working Group on Crisis Management Audit (WGCMA), the proposal for the creation of which was put forward by the SAI of South Korea at the 55th Meeting of the ASOSAI Governing Council on July 27, 2020.
During 3 thematic sessions, representatives of the SAIs of the Asia-Pacific region covered a range of issues such as SAIs activities in responding to the COVID-19 pandemic and other emergencies, the development of new auditing standards and their role in crisis management, the introduction of innovative technologies and practices in audit processes.
Head of the Division of Cooperation with INTOSAI and Other International Organizations in the Department of International and Regional Cooperation of the Accounts Chamber of the Russian Federation Yaroslav Yalovenko focused on the current projects of the INTOSAI Supervisory Committee on emerging issues. In total, from June to October, 4 webinars were held on the topic of combating the COVID-19 pandemic, an online Observatory with an interactive map of responses to the pandemic was launched, and a selection of useful links and publications on the presidency website was prepared.
"Created in collaboration with the SAI of Peru, the Observatory provides a systematic overview of the response measures adopted by governments and SAIs around the world. They are presented on an interactive map structured by INTOSAI region. The choice of one or another initiative allows to assess how often it has been implemented in other countries. The Observatory also offers a selection of studies and publications on COVID-19 carried out by SAIs, government agencies and international organizations, as well as a list of links to external websites set up by SAIs in response to the pandemic."
Recommendations to the INTOSAI Governing Board were a key result of the Steering Committee's activities. Designed to ensure the continuity and efficiency of INTOSAI's operations in future emergencies, the recommendations are targeted to facilitate strategic transformation and organizational development with a view to telecommuting, to enhance interaction with national SAIs, to increase openness and to share expertise knowledge within the professional community.
Therefore, attention was paid to the activities of the Accounts Chamber of the Russian Federation in the context of COVID-19.
"In addition to research conducted in collaboration with members of the INTOSAI Steering Committee on emerging issues, the Court of Accounts independently monitors the SAI's response to the pandemic. Namely, The Accounts Chamber has already published two reviews "The SAI's Response to the COVID-19 Pandemic" on its website. Also, the SAI of Russia publishes weekly reviews of relevant materials put out by international organizations and think tanks related to the impact of COVID-19 on everyday life. Overall, SAI monitoring shows that SAIs have adapted to teleworking and continue to actively respond to the impact of the COVID-19 pandemic."
---