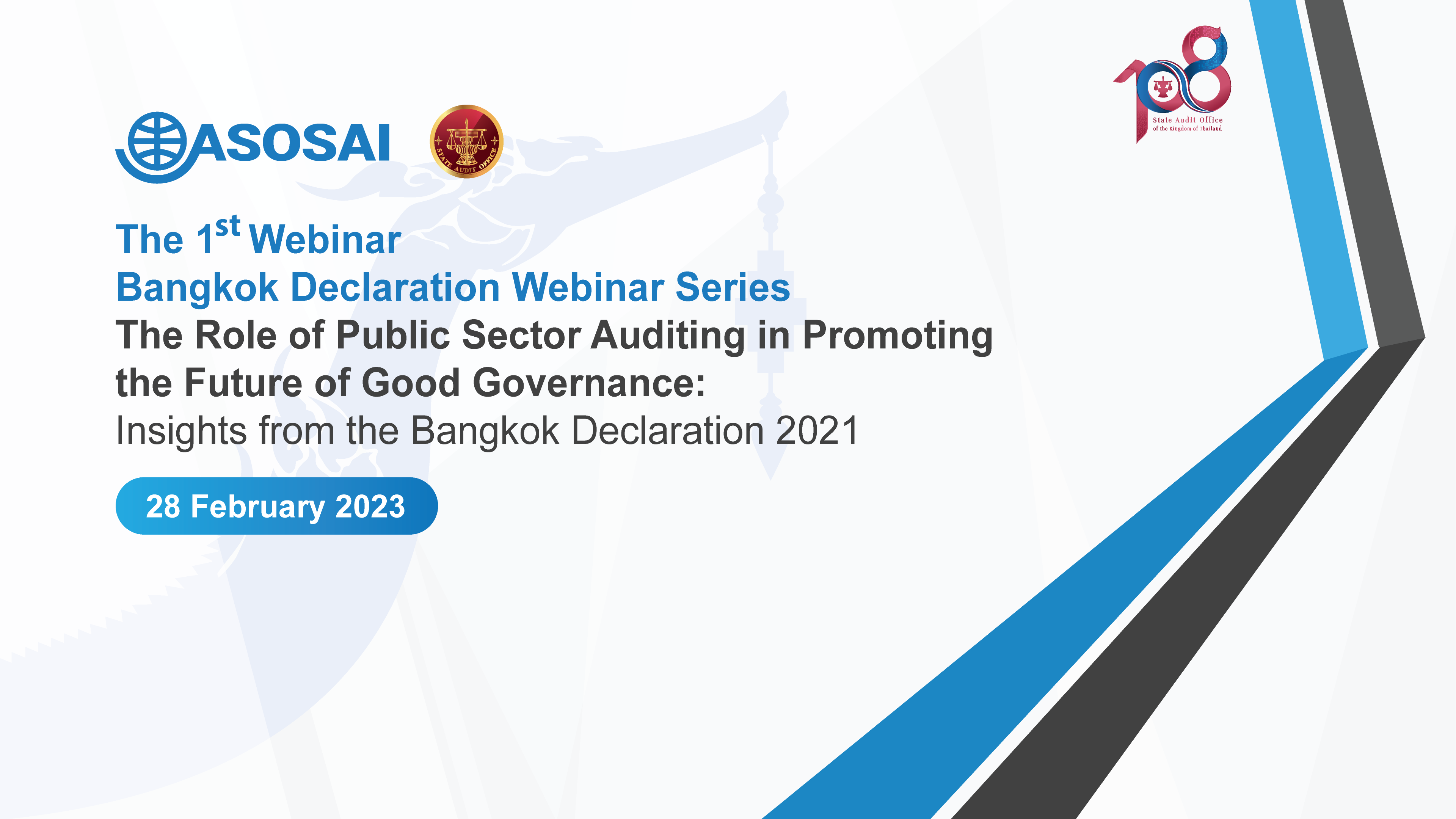 The Role of Public Sector Auditing in Promoting Future of Good Governance
The SAI of Thailand has launched a series of webinars on the implementation of the Bangkok Declaration, adopted as a result of 15th Assembly of the Asian Organization of Supreme Audit Institutions (ASOSAI).
Dedicated to the issues of "Preparing SAIs for the Next Normal'", the Bangkok Declaration develops many of the provisions of the INTOSAI Beijing Declaration, Abu Dhabi Declaration and Moscow Declaration.
The document is intended to provide support to regional SAIs in disseminating knowledge in the field of public audit, professional capacity building, promoting good governance and sustainable development. In addition to ASOSAI's three strategic goals, the Bangkok Declaration established four key areas of action:
Support to SAIs in promoting good governance;
Assistance in achieving the SDGs;
Using advanced technologies for public sector auditing;
Responding to disaster and pandemic issues.
September 6-8, 2021 On February 28, 2023, the first webinar was held on strengthening the role of SAIs in improving the efficiency of public administration. The event was attended by more than 80 representatives from 23 SAIs – members of the organization.
The SAI Thailand auditor Dr. Pattarawarin Boonchoo identified four priorities in this direction:
Recognize the importance of the Beijing Declaration 2013 on promoting good governance by supreme audit institution.
Encourage maintaining the fiscal and financial discipline of audit entities and preparing for public debt management
Recognize the importance of the Abu Dhabi Declaration on enhancing collaboration between the SAIs and anticorruption bodies
Promote the importance of e-governance
Summing up the results of the webinar, Dr Sutthi Suntharanurak, Director of the International Department of the SAI Thailand, noted that the effectiveness of the public administration system in the future will depend on its openness, innovation, adaptability and resilience in relation to emerging crises. Improving the institutional capacity of SAIs requires the continuous development of the professional competencies of employees, the active introduction of digital tools into work processes and the expansion of strategic partnerships with other government institutions.
Find enclosed the Presentations of the participants.
---