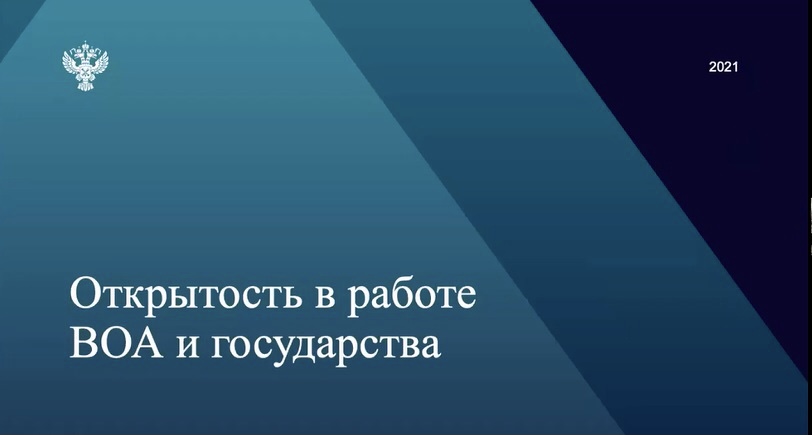 Openness of SAIs and the State: outcomes of the ACRF work
On July 22, 2021 as part of the experience sharing with representatives of the Council of Heads of SAIs (Financial Control) of the CIS Member States, a seminar on "Openness of the activities of SAIs and the State" was held.
At the event participants discussed how to ensure informational openness of SAIs, strengthen publicity culture when making government decisions, as well as make the work of public bodies transparent and hold them accountable for the result.
Opening the seminar, Mr. Timur Makhmutov, Director of the Department for International and Regional Cooperation, stressed that openness of state activities as a whole contributed to the development of a comprehensive dialogue between society and the authorities, and fostered the awareness of citizens about the activities of state agencies.
'Openness and accountability of state institutions is one of the important state tasks with a view to increase the confidence of citizens in the state system,' he noted emphasizing the relevance of the meeting agenda.
Mr. Pavel Demidov, Director of Communications Department, made a presentation during the event. He described how the Accounts Chamber of the Russian Federation was developing its communication strategy:
'Our research identified five key roles of the institution in the public field: parliamentary control body, participant in the budgetary process, data source, public control tool and Chair of INTOSAI. With this in mind, we develop our communication products, channels and processes, and then we conduct an efficiency assessment. Opinion polls and feedback help us do this.'
In addition, in his presentation Mr. Demidov elaborated on the formats of interaction with various reference groups. He used as examples working with appeals from citizens, conducting interviews with the population during audits, focus groups with experts and special digests for Parliament.
According to Mr. Demidov, the role of an open state in the work of SAIs is no less important. In order to strengthen the culture of public and open state decision-making processes, the Accounts Chamber of the Russian Federation annually publishes the report on Open State.
'In 2020, the Accounts Chamber did a lot of work to explain the methodology for federal executive bodies. We held six seminars, where we discussed with the representatives of the authorities what sites and social media should look like, how to process appeals from citizens and journalists, and how to work with an open data. It did not take long to see the results with 62 federal agencies moving up in 2021 ranking in at least one area,'
- he said.
In conclusion, the participants stressed that the meeting was an opportunity to exchange experience, share best practices and outline plans for the future. Representatives of the SAIs of Armenia, Azerbaijan, Belarus, Kyrgyzstan, Moldova and Tajikistan as well as RAIs of the Russian Federation and territorial bodies of the State Control Committee of the Republic of Belarus took part in the event.
---