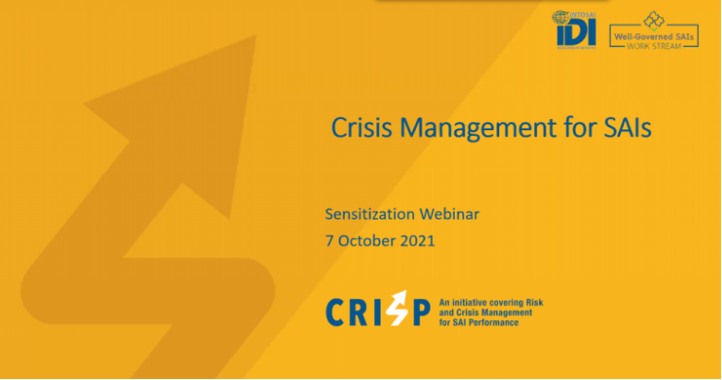 IDI Held the Second Webinar on Crisis Management as Part of the New CRISP Project
On October 7, 2021, the second webinar on "Crisis Management" was held for the employees of SAIs.
The event was held as part of the new project CRISP (Crisis and Risk Management for SAI Performance) to improve the sustainability of SAIs, which was a direct response to the crisis caused by the pandemic
In the introductory part of the webinar, representatives of the INTOSAI Development Initiative (IDI) provided general information on the sustainability of SAIs in crisis situations. A sustainable SAI must be able to anticipate and counter the risks and threats posed by a crisis situation. The sustainability of an organization is influenced by such factors as the accountability and openness of the financial system and the organization as a whole, the pandemic, the processes of digitalization and the implementation of Information Communication Technologies (ICTs). In addition, within the organization, it is important to pay attention to such processes as strategic and operational management, stakeholder relations, technology, risk assessment, and leadership management of the department.
IDI's "Well governed SAIs work stream" implemented several projects in 2020:
Evaluating the effectiveness of SAI's activities
Implementation of ITCs in SAI's activities
Program for SAI leaders
HR development
Risk assessment and crisis management
Representatives of the SAI of Fiji and the European Court of Accounts spoke about the crisis management systems in their organizations. The risk management system was implemented in SAI of Fiji in 2019. International standards such as ISO 31000: 2018 and ISO 19600: 2014 were used in its development. Among the main factors that help the organization overcome the crisis and avoid risks,we cited such aspects as data storage on an internal server, remote (home) work policy, and work policy in the face of a pandemic.
A representative of the European Court of Auditors said that it is impossible to predict in which area the crisis may occur, but this does not exempt the organization from taking responsibility. To successfully overcome any crisis situation, an organization should not exclude any scenario of the situation development, strengthen IT capacity, strengthen control over data retention, implement a system of internal and external monitoring, and use all possible means of communication.
After the presentations, the participants in small groups discussed the main challenges facing supreme audit institutions in the crisis management process, as well as the benefits of the methodology and crisis management plans.
---