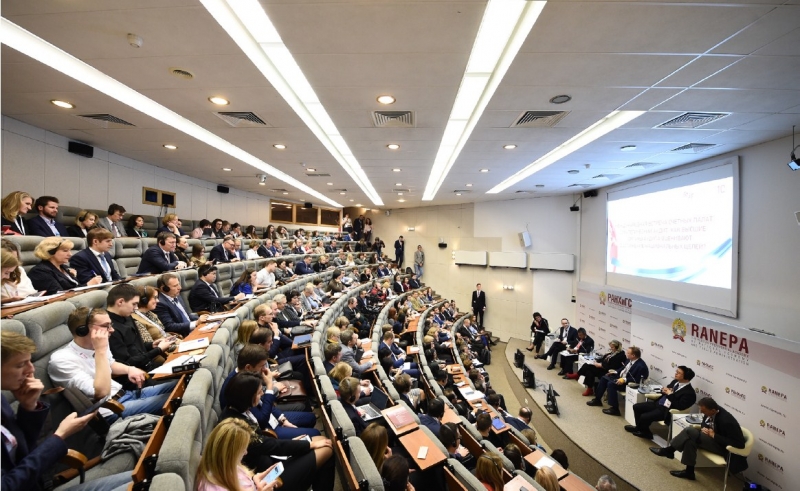 Evolution of Auditing: from financial audit to the strategic one
In the light of changes in the public administration mechanisms, calls to reform methods of accounting have grown particularly loud, and action is on the way.
That is why at the panel discussion on January 16th, 2019 chief officers of supreme audit institutions (SAIs) from Russia, Indonesia, Austria, Finland, China and the USA within the framework of the 10th Gaidar Forum in Moscow discussed audit transformation aimed at achieving national goals, enhancing auditors' independence and increasing their participation as partners for national government.
Achieving national goals is an important task for the state, and new types of audit should help the government in assessing results in this direction. Nowadays strategic audit is gaining momentum, it plays more important role and reflects all changes in the public administration. So, there is a transfer from traditional approaches to auditing such as financial and compliance audit to more up-to-date forms: performance and strategic audit.
Assisting the government in overcoming problems may and should make public administration system work for the sake of the country's development and national welfare. However, there are some risks of excess of powers and it is very important not to overstep bounds. Advising and participation in decision-making processes should be based on an in-depth analysis of audit results and help to overcome difficulties while achieving national goals.
During the panel discussion Dmitry Zaitsev, the Auditor of the Accounts Chamber of Russia, introduced a term "nudge audit" based on a "nudge theory" of Richard H. Thaler, who was awarded the Nobel Prize in Economic Sciences for his contributions to behavioral economics. "Nudge audit is a type of audit that directs discussion, not politics, and recommendations should be that much clear and sound to make the government accept them without question", - claimed the Auditor. Independence, transparency, professional competence, scientific approach, evidential basis and ethical norms – these are core values in high-quality audit and consultancy.
Chairman of the Audit Board of the Republic of Indonesia Mr. Moermahadi Soerja Djanegara in his presentation said that it is important to keep the goals and missions, front and center. According to the Chairman, the requirements for controls are tightening, so that the SAI of Indonesia should go on building up trustful relations between state and private sector. Playing a role of an overseer and guard, the audit institution should keep all national partners focused and secure in fulfilling their missions. "Strategic plans, missions and recognition of stakeholders' expectations will internally strengthen our organization, resulting in a strengthened Indonesia", - he summed up.
Deputy Auditor General of the National Audit Office of Finland Marko Mannikko outlined key issues on how the SAI of Finland can help to achieve national goals. To his mind, it can be realized by selecting audit topics that are relevant for the government's four-year programme for the election cycle, by reporting audit findings and proposals timely and by focusing audit on the Government's accountability reporting. Moreover, he made examples and provided the auditing community with case-studies on the most outstanding results on achieving national strategic goals in bioeconomy and clean solutions, annual accountability reporting and innovative procurement. Nevertheless, the ultimate goal is to promote transparency and trust in order to enhance effective public services and citizens' willingness to pay taxes.
Cristopher Joseph Mihm, Managing Director for Strategic Issues, U.S. Government Accountability Office, paid attention to the sustainable development goal # 16 and its importance in terms of good governance. "Solution to any big problem is going to be a variety of different programs working together across organizational lines, often across different levels of government and sectors. The key to success will be coordination", - he stated. Moreover, audit methodologies should be as sophisticated as the governance approaches to address complex issues, this entails a whole-of-government perspective to audit.
Cui Zhenlong, Director of the Department of Education, Science, Culture and Health Audit of the National Audit Office of China, underlined in his speech that the work on strategic audit includes five components of progress: economic, political, cultural, social and ecological civilization ones. Monitoring system in China is divided into three levels: central, provincial and municipal government. According to Mr. Zhenlong, the government audit focuses on the formulation and implementation of policies, taking factors from the overall situation and macro issues, addresses all the risks, and evaluates the implementation of national strategies. It is also worth mentioning that CNAO has an experience in accountability audit of leaders that involves monitoring of their compliance with the law and achievements in fulfilling national goals.
Monika Gonzalez Garcia-Koss, Director of International Relations Department of the Austrian Court of Audit and Director of the General Secretariat of INTOSAI, summing up the outcomes of the meeting, pointed out that the work of SAIs should become broader and take into account changes in the actual international agenda.
In this way, at the panel discussion experts came to the conclusion that to achieve the desired results it is necessary to use plain language in official papers, make amendments to legislation, work out a long-term plan of actions and formulate special initiatives in order to eradicate problems in public administration. Besides, Mr. Mihm during his speech supposed that audit is usually about looking backwards, strategy is usually about looking forwards and that we are looking backwards in a forward-looking sense or vice versa. So this pending question and other important issues on strategic audit will be discussed this year at the XXIII INTOSAI Congress in Moscow. You are welcome!
---