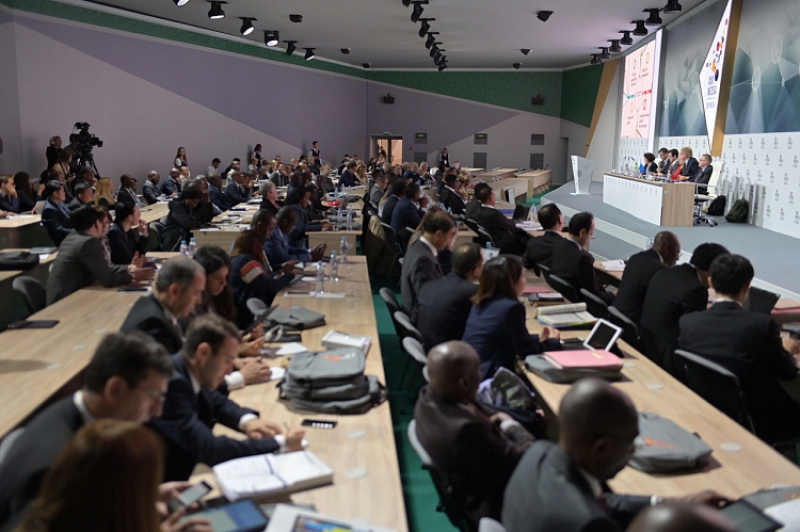 XXIII International Congress of Supreme Audit Institutions commenced in Moscow
The XXIII International Congress of Supreme Audit Institutions (INCOSAI)*, the largest international audit forum, started today in Moscow.
Delegations from 169 countries arrived in the Russian capital to participate in its sessions. In terms of the number of participants, it is the most representative Congress in the history of INTOSAI.
One of the main events of the Congress will be the accession of the Accounts Chamber to the Office of the INTOSAI President. The Supreme Audit Institution of Russia will determine the international audit agenda for the next three years. The inauguration ceremony will be held on September 25 in the Moscow Manege.
The forum will be held for five days : from 23 to 27 September. The main topics of the agenda are "Information Technologies in Development of Public Administration" and "Role of Supreme Audit Institutions in the Achievement of National Priorities and Goals"**. The 72nd meeting of the INTOSAI Governing Board will open the Congress. Moreover, on the first day of the forum, meetings of three committees (Knowledge Sharing, Capacity Building and Professional Standards) will be held. Plenary sessions on the main topics of the Congress will begin their work on September 25. The Congress will end with the signing of the Moscow Declaration, which will reflect the main results of its work.
***
*INTOSAI is an international organization established in 1953 to promote the cooperation of Supreme Audit Institutions (SAIs) and improve the public audit worldwide. 194 countries are members of INTOSAI. The Accounts Chamber of the Russian Federation has been a member of INTOSAI since the moment of its establishment in 1995.
The Supreme body of INTOSAI is the Congress, which is held every three years in different countries. The decision to hold the next session of the Congress in Russia was unanimously adopted by the participants of the XXII INCOSAI in 2016 in Abu Dhabi.
** In the framework of Topic I, which will be presented by the SAI of China, the participants will discuss the importance of the use of information in electronic form for the development of public administration, identify the place and role of big data in their activities.
The second topic of the Congress, which will be presented by the Accounts Chamber of Russia, will be devoted to the role of the SAIs in achieving national goals. Participants will discuss the importance of participation of Supreme Audit Institutions in the promotion of good governance and the response to challenges associated with the achievement by national governments of their sustainable development goals.
---